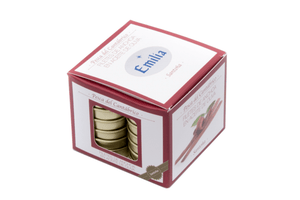 Lot of 14 cans 30gr. Anchovy fillets in olive oil "Silver Series"- Cantabrian Fish
The Anchovy "Silver Series" is always made with fish from the Cantabrian Sea. Ideal for your salads, canapés, sandwiches... a quality anchovy for day to day.
Net weight: 14 x 30 gr.
Semiconserva: Maintain between 5º and 12º.
Ingredients: Anchovies, olive oil and salt.
Allergens: Fish.
Expiration: 7 months from manufacture.
Presentation: Case.
Reference: 8220
NUTRITIONAL INFORMATION
(average value per 100 gr. drained weight)
Energy value 907 kJ / 217 kcal
Fats 13 gr.
            of which saturated 1.8 gr.
Carbohydrates 0 gr.
            of which sugars 0 gr.
Proteins 25 gr.
Sal 14,2 gr.