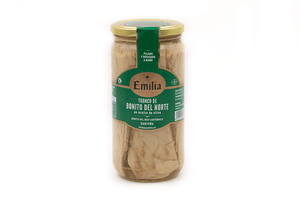 White tuna in olive oil jar 750 gr,
Experience the exquisite flavor of a top quality northern white tuna, caught during the summer coast in the Cantabrian Sea, an artisan elaboration and preserved in olive oil. Our 750gr jar is the perfect selection for your best recipes.
Neto Weight: 750 gr. Drained weight: 500 gr.
Ingredients: Nice, olive oil and salt.
Allergens: Fish.
Expiration: 3 Years from manufacture.
Presentation: Glass jar.
Reference: 7
Nutritional information
(Average value per 100 gr. Drained weight)
Energy value 880 kJ / 210 kcal
Fats 11 gr.
of which saturated 4.7 gr.
Carbohydrates 0 gr.
of which sugars 0 gr.
Proteins 27 gr.
Sal 1,3gr.