Preserves, preparations and pates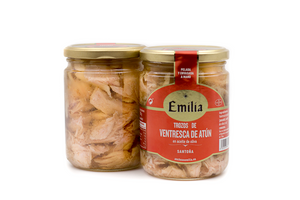 La Ventresca (flanked) is the belly area of the Fish in the case of tuna has a fatter and juicier meat very...
Learn more
VISIT our factory

We have a Free Guided Tour Service to our factory where our visitors can learn about the Santoña Anchovy production process and see the inside of our facilities while we produce.

We are waiting for you.

More information
Shop
Avda. de Carrero Blanco, 25
39740 SANTOÑA · Cantabria
Monday - Sunday 10:00 - 21:30
Store in factory
AVDA. DE LONS, 2-POLG. IND. LAS MARISMAS, 39740 Santoña, Cantabria
Monday - Friday 10:00 - 17:00
Visits every hour from 10:00 at 13:00
Saturday 10:30 - 13:30
Visits every hour from 11:00 at 13:00