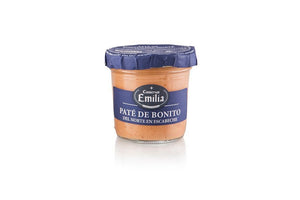 Net weight: 120 gr.

Ingredients: Bonito, egg, dairy, tomato, vinegar, olive oil and salt.
Allergens: Fish, egg and lacidic.
Expiration: 2 years from manufacture.
Presentation: Glass jar.
Nutritional information
(average value per 100 g of drained weight)
Energy value 270 kJ / 64 kcal
Fat 1.5 gr.
            of which saturated 0.6 gr.
Carbohydrates 6.5 gr.
            of which sugars 4 gr.
Proteins 6 gr.
Salt 0.2 gr.