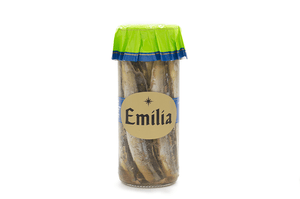 Relanzón in olive oil jar 450gr.
Relanzones (needle) in olive oil.

Net weight: 450 gr. Drained weight: 350 gr.
Ingredients: Relanzón, olive oil and salt.
Allergens: Fish.
Presentation: Glass jar.
Nutritional information
(average value per 100 gr. drained weight)
Energy value 648 kJ / 154 kcal
Fats 6.6 gr.
            of which saturated 0.7 gr.
Carbohydrates 0.9 gr.
            of which sugars 0.8 gr.
proteins 22,9 gr.
Shall 2,4 gr.