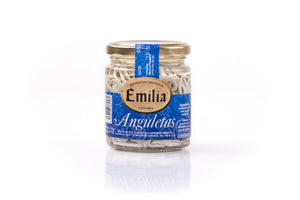 From the sixth unit 5% discount on the product.
Discover the Anguletas Emilia the perfect ingredient as an accompaniment to your favorite dishes. Enjoy a unique and unparalleled flavor.
Net weight: 225 gr. Drained weight: 110 gr.
Ingredients: Surimi of fish, vegetable oil, cayenne and garlic.
Allergens: Crustacean, fish, egg and mollusc.
Expiration: 5 years from manufacture.
Presentation: Glass jar.
Reference: 405
Nutritional information
(average value per 100 gr. drained weight)
Energy value 2289.54 kJ / 543.43 kcal
Fat 53,53 gr.
of which saturated 4.22 gr.
Carbohydrates 14.20 gr.
of which sugars 1.25 gr.
Proteins 4.19 gr.
Will 0.8gr.