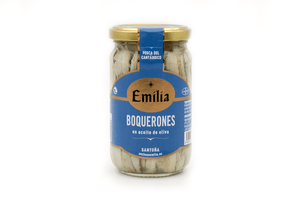 Cantabrian white anchovies marinades in olive oil jar 330 gr.
White Anchovies made with Cantabrian fish made in an artisanal way and preserved in olive oil.
Net Weight: 330 gr. Drained weight: 180 gr.
Semi-preserve: Keep between 0º and 5º.
Ingredients: Anchovy, olive oil, wine vinegar, citric acid and salt.
Allergens: Fish.
Expiration: 6 months from manufacture.
Presentation: Glass jar.
Reference: 601
Información nutricional
(average value per 100 gr. of drained weight)
Energy value 685 kJ / 163 kcal
Fat 5,5 gr.
            of which saturated 1 gr.
Hidratos de carbono 4,5 gr.
            of which sugars 0 gr.
Proteins 21 gr.
Salt 0,9gr.