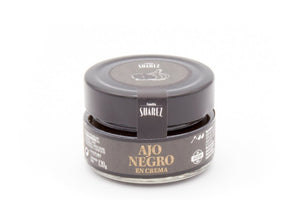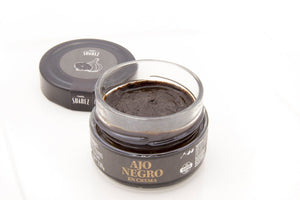 Black garlic cream is great to use as a condiment or as an ingredient.
Black garlic is a caramelized garlic, used as a condiment in Asian cuisine and characterized by its sweet, somewhat acidic and very umami flavor.
Net weight: 120 gr.
Ingredients: Black garlic made with purple garlic (80%), water, acidifier: citric acid, colouring: E-153, aroma.
Presentation: Glass jar.
Reference: 917
Nutritional information
(average value per 100 gr.)
Energy value 562 kJ / 133 kcal
Fats 1 gr.
            of which saturated 0,6 gr.
Carbohydrates 21 gr.
            of which sugars 20,9 gr.
Proteins 7,9 gr.
Salt 0,05 gr.