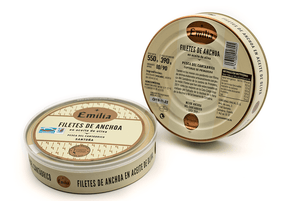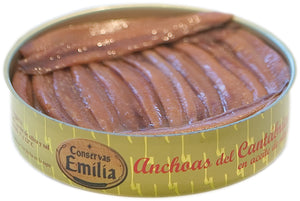 Anchovy Fillets in Olive Oil "Gold Series" - Cantabrian Fish tin 550gr.
The Conservas Emilia "Gold Series" anchovy is made with the best fish selected in the spring season and caught in the Cantabrian Sea.  An anchovy of the highest quality, with just the right amount of salt and made with the greatest care by our artisans.
The Cantabrian Anchovy "ORO Series" won the award for "Best Anchovy in the 2019 Tasting" by the Cantabria Anchovy Brotherhood.
Net weight: 550 gr. Drained weight: 390 gr.
Semiconserva: Maintain between 5º and 12º.
Ingredients: Anchovies, olive oil and salt.
Allergens: Pescado.
Expiration: 7 months from manufacture.
Presentation: Years.
Reference: 4
Nutritional information
(average value per 100 gr. drained weight)
Energy value 747 kJ / 179 kcal
Fats 10.2 gr.
            of which saturated 2.2 gr.
Carbohydrates 0 gr.
            of which sugars 0 gr.
Proteins 21.1 gr.
Sal 9,4 gr.