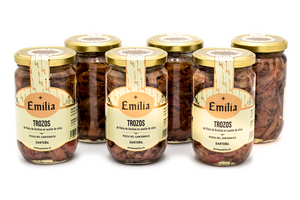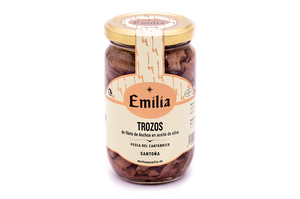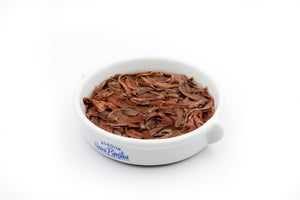 Lot 6 jars 305 gr. Anchovy chunks in olive oil-Cantabrian fish
Regular price
€64,95
Sale price
€80,40
Unit price / per
tax included
Anchovy pieces are the product of fillets that do not measure up or split during the filleting process. Its size is irregular and its cleanliness is much less.
They are perfect for pasta, salads or tapas.
Neto Weight: 6 * 305 gr. Drain Weight: 6 * 160 gr.
Semiconserves: Keep between 5th and 12th.
Ingredients: Anchovies, olive oil and salt.
Allergens: Fish.
Expiration: 7 months since manufacture.
Presentation: Glass jar.
Nutritional information
(Average value per 100 gr. Drained weight)
Energy value 747 kJ / 179 kcal
Fats 10.2 gr.
of which saturated 2.2 gr.
Carbohydrates 0 gr.
of which sugars 0 gr.
Proteins 21.1 gr.
Sal 9,4 gr.