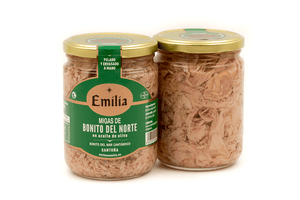 Migas de Bonito in olive oil jar 430gr.
The migas are a by-product of the elaboration of bonito, they are perfect to accompany salads and prepare dishes such as croquettes and empanadillas.
Net weight: 430 gr. Drained weight: 300 gr.
Ingredients: Bonito, olive oil and salt.
Allergens: Fish.
Presentation: Glass jar.
Reference: 25
Nutritional information
(average value per 100 gr. drained weight)
Energy value 880 kJ / 210 kcal
Fats 11 gr.
            of which saturated 4.7 gr.
Carbohydrates 0 gr.
            of which sugars 0 gr.
Proteins 27 gr.
Sal 1,3gr.