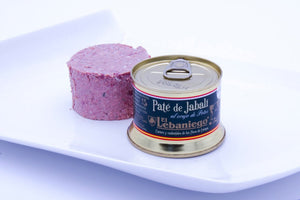 Wild boar pate with pomace from Potes
Net weight: 135 gr.
Ingredients: Wild boar meat, pork meat, bacon and pork liver, milk, egg, salt, honey pomace, mushrooms, extra virgin olive oil, black truffle aroma, white pepper, sugar and preservative (sodium nitrite).
Allergens: Dairy and egg.
Presentation: Years.
Nutritional information
(average value per 100 gr.)
Energy value 1327.22 kJ / 317 kcal
Fats 29 gr.
            of which saturated 11.5 gr.
Carbohydrates 2 gr.
            of which sugars 0.5 gr.
Proteins 12.1 gr.
Sal 2 gr.