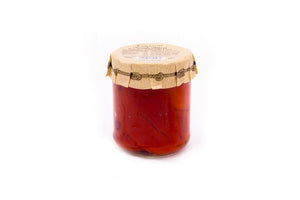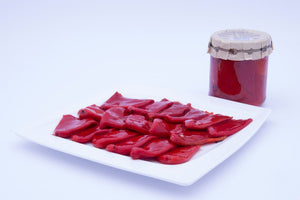 Fleshy and juicy baked and peeled peppers, ready to fill or accompany any dish or starter such as our anchovies or bonito.
Net weight: 430 gr. Drained weight: 390 gr.
Ingredients: Piquillo peppers, salt and acidulant: citric acid.
Expiration: 4 years from manufacture.
Presentation: Glass jar.
Reference: 460
Nutritional information
(average value per 100 gr. drained weight)
Energy value 130 kJ / 30.8 kcal
Fats 0 gr.
            of which saturated 0 gr.
Carbohydrates 5.6 gr.
            of which sugars 4.8 gr.
Proteins 1.1 g.
Dietary fiber 2 gr.
Sal 0,85 gr.