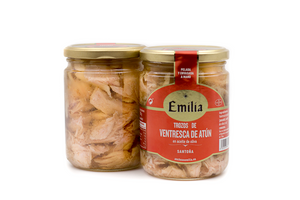 Tuna belly in olive oil tin180gr.
La Ventresca (flanked) is the belly area of the Fish in the case of tuna has a fatter and juicier meat very different from the trunk, less dry and more tasty. 
Net weight: 180 g. Drained weight: 110 g.
Ingredients: Tuna belly, olive oil and salt.
Allergens: Fish
Expiration: 3 years from manufacture
Presentation: Case.
Reference: 819
Nutritional information
(average value per 100 g of drained weight)
Energy value 878 kJ / 210 kcal
Fat 12.3 gr.
            of which saturated 1.9 gr.
Carbohydrates 0 gr.
            of which sugars 0 gr.
Proteins 24.9 gr.
Salt 1.2gr.