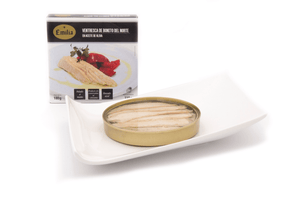 Bonito del Norte belly in olive oil tin 180gr.
Ventresca de Bonito del Norte in olive oil is one of the most valued products of the Bay of Biscay. Its meat is clear, almost white, infiltrated with fat, which gives it an intense flavor. Ideal to eat alone or with company.
Net weight: 180 gr. Drained weight: 110 gr.
Ingredients: Northern bonito belly, olive oil and salt.
Allergens: Fish.
Expiration: 3 years from manufacture.
Presentation: Years.
Reference: 61
Nutritional information
(average value per 100 gr. drained weight)
Energy value 880 kJ / 210 kcal
Fats 11 gr.
            of which saturated 4.7 gr.
Carbohydrates 0 gr.
            of which sugars 0 gr.
Proteins 27 gr.
Sal 1,3gr.