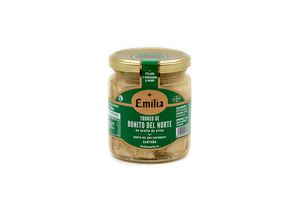 White tuna in olive oil jar 225gr.
From the sixth unit 3% off and the twelfth unit 5% on the product. Discount combinable with Bonito del Norte pickled jar 225gr.
Enjoy the best Cantabrian white tuna in olive oil. Our product is handcrafted with pretty caught during the summer seaside, for a unique flavor. The jar contains 225gr, guaranteeing a healthy gastronomic experience.
Neto Weight: 225 gr. Drained weight: 150 gr.
Ingredients: Nice, olive oil and salt.
Allergens: Fish.
Expiration: 3 Years from manufacture.
Presentation: Glass jar.
Reference: 9
Nutritional information
(average value per 100 gr. Drained weight)
Energy value 880 kJ / 210 kcal
Fats 11 gr.
of which saturated 4.7 gr.
Carbohydrates 0 gr.
of which sugars 0 gr.
Proteins 27 gr.
Sal 1,3gr.