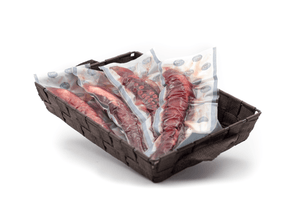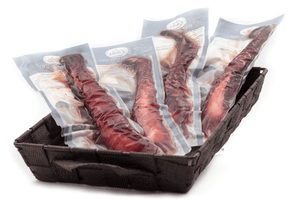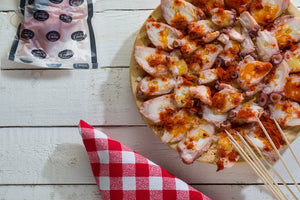 Lot of 4 octopus claws cooked in its own juice ±480g.
Regular price
€22,80
Sale price
€24,00
Unit price / per
tax included
 Four claws Octopus cooked in its own juice, vacuum packed and 100% natural without any additives. Each claw of ±120 gr. so you buy an average of 480 gr. of octopus at an unbeatable price.

Ready to heat and serve, it can be boiled for 5 minutes inside the bag, prepared Galician style and heated in the microwave, grilled or even grilled. 
 *Basket not included
Ingredients: Octopus
Keep Between: 4 y 7 ºC
Allergens: clam
Expiration: 6 months from manufacture
Nutritional information
(average value per 100 gr. drained weight)
Energy value 262 kJ / 62 kcal
Fats 0.922 gr.
            of which saturated 0 gr.
Carbohydrates 0 gr.
            of which sugars 0 gr.
Proteins 13.03 g.
Sal* 1,10 gr.
         *The salt content is due exclusively to the sodium naturally present in the food.