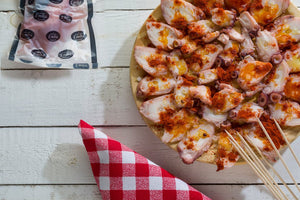 Octopus cooked on its own in its own juice
Octopus cooked in its own juice, vacuum and 100% natural without any additives.
Prepared to heat and serve, it can be boiled for 5 minutes inside the bag, prepared Galician style and heated in the microwave, on the grill or even on the grill. 
It is served in various weights, you must choose the desired one.
Ingredients: Octopus
Keep between: 4 and 7 ºC
Allergens: Mollusk
Expiration: 6 months from manufacture
Reference: 920
Nutritional information
(average value per 100 g of drained weight)
Energy value 262 kJ / 62 kcal
Fat 0.922 gr.
            of which saturated 0 gr.
Carbohydrates 0 gr.
            of which sugars 0 gr.
Proteins 13.03 gr.
Salt * 1.10 gr.
         * The salt content is due exclusively to the sodium naturally present in the food.